A quote I came across while reading William Gibson's Distrust That Particular Flavor, a collection of his essays and assorted nonfiction:
In 1854, with Commodore Perry's second landing, gunboat diplomacy ended two hundred years of self-imposed isolation, a deliberate stretching out of the feudal dream-time. The Japanese knew that America, not to be denied, had come knocking with the future in its hip pocket. This was the quintessential cargo-cult moment for Japan: the arrival of alien tech…

Imagine the Roswell Incident as a trade mission, a successful one; imagine us buying all the Gray technology we could afford, no reverse engineering required. This was a cargo cult where the cargo actually did what it claimed to do. [Emphasis added.]
The book is filled with these spot-on observations and analogies, and it's this intellectual microscope that propels William Gibson's best fiction. Gibson connects technology as a cold untapped force with characters' desires and failings. He understands that even the dullest human can become quite creative, even powerful, when a sufficiently complex piece of technology is at their disposal.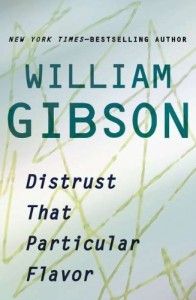 And certainly Gibson can write about the Japanese as well as any Westerner I've read. Neuromancer is practically a love letter to the Japanese circa 1983, their love of tech and costume and salaryman formalities framed within a culture that mindfully guards its feudal past. Who am I to question Gibson—he's written more about Japan, and the Japan we otherwise would not have heard about, than any other Western fiction writer in the past forty years. But there's an important proviso to his comparison of Japan emerging from its self-imposed shell and the plight of the South Pacific cargo cults.
When Commodore Perry forced Japan to open its doors, the country was not caught unaware by a flood of new technology and culture that poured in. In fact, the Japanese knew a lot more about the goings-on of the outside world than you might expect. The Japanese were doing what they could to keep up with Western technology and systems over those two hundred years of isolation, and doing it much better than other open countries in Asia and elsewhere who were suffering under the boot of European colonialism.
There's two key words here. The first is sakoku, which Wikipedia translates as "locked country" (but I've also heard translated as "curtain", as in "Iron Curtain"). Sakoku is the term aggregating a bundle of decrees and policies that led to Japan's isolation. Unfortunately, "isolated country" suggests a backwards nation, no matter how politically correct you attempt to be; consider our common attitudes toward North Korea, which is currently going through its own sakoku. Now imagine North Korea as a world power and economic powerhouse twenty years from now. Sounds far-fetched, but it's already happened once, and in a country not far off their coast.
What's less known outside of Japan (and even among the Japanese I've spoken with) is rangaku. The suffix -gaku means learning, while ran comes from Oranda, the Japanese pronunciation of "Holland". Rangaku is the body of Western knowledge accumulated by the Japanese (via the Dutch) during sakoku.
The Japanese acquired rangaku two ways. They obtained it directly from the Dutch, the only Western traders allowed into Japan during sakoku, once the Portuguese and their meddling monks were banned. The Japanese also sent their best and brightest to Holland's universities. That was the deal the Japanese emperor and shogunate cut with the Dutch: we'll open one port to you (Nagasaki), and in return you give us access to your books and technology, as well as let our hand-picked students attend your universities. The Dutch probably thought they were getting the better end of this deal, right up to the 1930s.
Through this lens, the Japanese no longer come off like hard-nosed traditionalists desperate to hold the clock hands of progress still. Rangaku is one of many explanations for how Japan emerged from its isolation and modernized in twenty-five years with remarkably little culture shock. The Japanese intelligentsia did not gape at the first steam locomotive, they'd already seen diagrams of it and were conversant with the principles that made it move. The Japanese even adopted a compulsory grade school education in the 1870s, forty years before the United States. Think how quickly our culture has adopted to the rise of the Internet and the rapid changes it's bringing. That's nothing compared to the Meiji-era Japanese transitioning from feudalism to modernity in one pre-planned, foreordained leap.
But it's also easy to take the wonderment too far, to admire the Japanese for integrating the cargo perfectly and fluidly into their feudal culture. In a recent collection of Ryunosuke Akutagawa's short stories, Haruki Murakami offers an oblique rebuttal to Gibson's observation of the Japanese "buying all the Gray technology" they could afford. In the introduction, Murakami notes Akutagawa was
a child of the modern age. Western civilization and Western-style education were already things that could be taken for granted. … He wore Western suits, smoked cigars, drank coffee, ate beef, conversed now and then with foreigners, and appreciated opera. Such a Westernized lifestyle was, for him, entirely natural and entirely comfortable.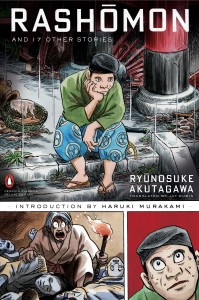 In other words, Akutagawa was accustomed to a way of life similar to the moveable feast the bohemian American ex-pats enjoyed after the First World War in Paris. It's remarkable to me that such a writer would set modernistic and relativistic stories like "In the Grove" and "Rashomon" (and others) in feudal Japan. (Imagine Fitzgerald writing a Revolutionary War novel, or Hemingway writing a story about the Salem Witch Trials.) As a backdrop to Akutagawa's stories, Feudal Japan appears to be constructed of the hard timber of clear-cut morality, duty, and honor—much like the mythologized Old West—and not the shaky plastic of "Rashomon"'s moral and subjective ambiguities. Of course, perhaps that was Akutagawa's point.
Murakami then speaks almost directly to Gibson. He notes that in Akutagawa's adulthood
the most basic aspects of the life of the Japanese were still being governed by the old indigenous culture. … The Meiji government openly promoted a policy supporting precisely such a bifurcation, as represented by the slogan "Japanese spirit, Western technology". They wanted to incorporate the technological progressiveness and efficiency of Western systems, but they also wanted the people to remain good, submissive Confucianists. … To some degree, the dregs of feudalism were left in place intentionally. [Emphasis added.]
In Europe, the leap from feudalism to modernism required a nasty and brutish slog through the Industrial Age and its factory child labor, black lung disease, and Marxist pot-stirring. Japan neatly sidestepped all that, cultivating the nineteenth century's benefits, discarding its detritus, and in the process preserving the kind of feudal values that had been discarded as quaint and old-fashioned by Americans and Europeans. (For one example, see Mark Twain's 1895 attack on Romanticism in "Fenimore Cooper's Literary Offenses".) Unfortunately Fascism loomed in Japan's future, just as it did for the nations who'd persevered through the Industrial Age.
For better or worse, today we've implicitly agreed on a sink-or-swim policy for people to adjust to the Information Age we're currently embroiled in. My grandmother still uses a corded phone and only recently installed cable television—but no Internet service, and she never will. There was no government edict for her to catch up with the Web, no compulsory service requiring her to join Twitter and enroll in Facebook. One hundred and fifty years ago, the Japanese explicitly decided on a negotiated course for their people, a compulsory upgrade of their society from Feudalism 1.0 to Modernity 2.0.