They hired a cyberpunk detective to recover the Internet's stolen digital history.

They didn't know his twisted past is the key to the crime.
NOW AVAILABLE FOR KINDLE AND PAPERBACK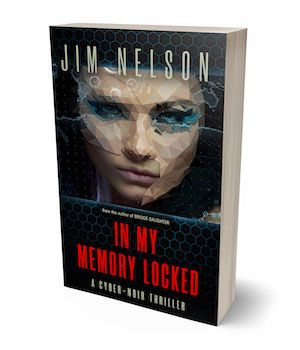 Security expert C.F. Naroy is hired to stop hackers from destroying the only remaining preserved copy of the Old Internet—"Old" because the Internet has been replaced by the Nexternet, a technology that allows anyone to transmit instantly love, hate, outrage, joy…their very thoughts. Emotions are sent like text messages. Others' memories are streamed like movies.
Naroy's investigation uncovers blackmail, political intrigue, dark family secrets, and more than a few dead bodies. He also learns the hard way that the stolen data is so explosive, people are willing to kill for it.
What his employers don't know is that Naroy's painful, tortured past is the key to the entire affair. He must choose between solving the crime…or burying it for good.
"No one tells a hard-boiled tale like Jim Nelson." – Instant City
Praise for In My Memory Locked
"If you like Dashiell Hammett and Philip K. Dick, this book is for you. Great writing and storytelling from an author at the top of his craft."
– Nicolas Gattig
"Ingenious plot…cyber-noir is the right descriptive, and the read is well worth the while." – T. Mohr, 5-star Amazon review
"First-rate cyberpunk…I had no choice but to finish the book straight through." – brujaja, 5-star Amazon review
From the author
Tacking a new direction from my Bridge Daughter series, In My Memory Locked is a futuristic private eye mystery drawing inspiration from masters like Raymond Chandler, William Gibson, Dashiell Hammett, George Alec Effinger, Ross MacDonald, and Philip K. Dick.
More so than any novel I've written so far, In My Memory Locked was a labor of love. Heavy on the labor, though, as it took me far longer to complete than I anticipated due to the intricacies of the book's execution. When I finally set the novel aside, exhausted, I found myself ready for a change of pace, which led to a surprisingly quick turnaround writing Stranger Son.
Even though it sounds like far-flung science fiction, In My Memory Locked is far more pertinent to today's world than the story's futuristic setting suggests.
Where to read more
In My Memory Locked on Goodreads
Read more about In My Memory Locked on my blog