A young girl must bear her mother's child
Bridge Daughter sequels now available:
HAGAR'S MOTHER and STRANGER SON
Bridge Daughter Cycle boxed set also on sale
---
"Bridge Daughter is the sort of surprising gem in a sea of fairly ordinary you occasionally run across as a reader of contemporary speculative fiction—smart, highly original, and emotionally brutal. It's a book that, like Ursula LeGuin's "The Ones Who Walk Away from Omelas" or Margaret Atwood's The Handmaid's Tale, tweaks a single seemingly ordinary aspect of the human condition in order to imagine the terrible possibilities hidden inside all of us, and it does it so compellingly that the story lingers long after the book is done."
– John Blair, author of Bright Angel and American Standard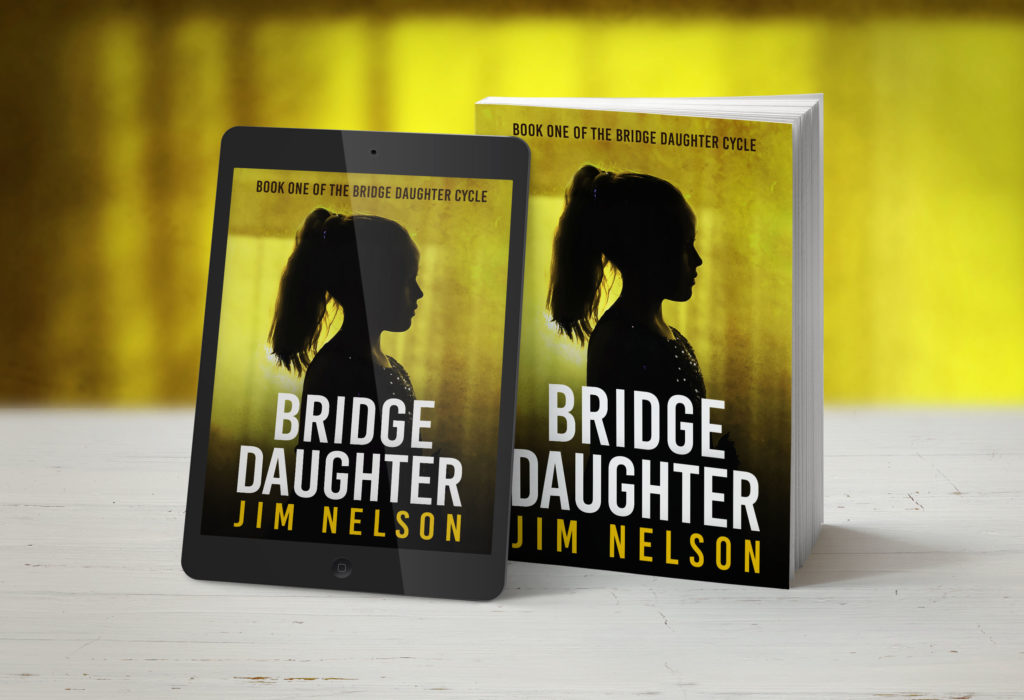 Download a sample or order on Amazon
Hanna Driscoll thinks her thirteenth birthday will be no different than the one before—until her mother explains the facts of life. Hanna is a "bridge daughter," born pregnant with her parents' child. In a few months she will give birth and die, leaving her parents with their true daughter.
A mature bookworm who dreams of college and career, Hanna is determined to overcome her biological fate. Navigating a world eerily like our own, she confronts attitudes and fears as old as humankind.
Then Hanna learns of an illegal procedure that will allow her to live to adulthood…at the cost of the child's life.
Praise for Bridge Daughter
"Nelson smoothly realizes a provocative alternate present … the thought-provoking story blends action, introspection, and social commentary in a stark but indirect critique of efforts to control female bodies and restrict reproductive rights." – Publishers Weekly
"A beautiful and compact novel that is both sweet and savage in turn. The most original and compelling novel I've read in years. … My favourite novel of 2016." – Katherine Hayton, author of The Three Deaths of Magdalene Lynton and Breathe and Release
"This book sucked me in right away and I was compelled to finish it to find out what choices Hanna would make. … It definitely kept me thinking long after I was done reading." – Sarah Meckler, GSMC Book Review Podcast
"A very good book—in the vein of The Handmaid's Tale without being derivative of it." – Paul Ridge, Fictive
"Hanna is a beautiful character that undergoes one of the most trying and tortuous character arcs I've ever read…intelligent, gripping, and hard to put down." – The Drifting Paige, 5 out of 5 review
"Nelson resists genre categories with elegant, stylistic prose…[an] ambitious psychological thriller." – Ramiro Estrada, 5-star Amazon review
"Startlingly unique … Bridge Daughter will challenge you to think, to contemplate, to re-assess." – C. Chase Harwood, author of Bastion Saturn
"A strong character, I found myself sympathizing with Hanna and rooting for her until the very end." – The Hungry Bookworm
"A strong start to a potentially brilliant series." – Jeanz Book Read 'n' Review
"Haunting and beautifully written…I could not put this book down." – Anne Wagener, author of Borrow-A-Bridesmaid
"One of those books I can't get out of my head, where I found myself thinking about it not only while I was reading it but even days and weeks later." – Heather F., 5-star Amazon review
"Hauntingly beautiful…a disturbing view of an alternate America." – K. McCutchen
"Don't start this until your schedule is clear—you won't be able to put it down." – Cynthia Ross, 5-star Amazon review
From the author
Kindle Press published Bridge Daughter on June 7th, 2016. Kindle ebook and paperback editions are now available on Amazon.
If you nominated Bridge Daughter on Kindle Scout, thank you! Your support is so appreciated. You should have received from Kindle Press an email explaining how you receive your free early copy.
Where to read more