A world where daughters
bear their parents' children
Young Hanna thinks her thirteenth birthday will be no different than the one before—until her mother explains the facts of life. Hanna is a "bridge daughter" born pregnant with her parents' child. In a few months she will give birth and die, leaving her parents with their true daughter.
So begins The Bridge Daughter Cycle, a three-part family saga set in an alternate world eerily like our own. Now all three books are available at a reduced price in a single box set collection: Bridge Daughter, Hagar's Mother, and Stranger Son.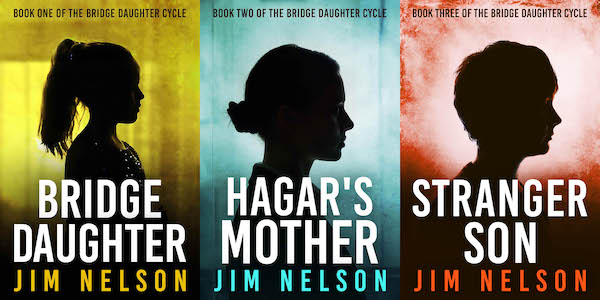 Praise for Bridge Daughter
"Bridge Daughter is the sort of surprising gem in a sea of fairly ordinary you occasionally run across as a reader of contemporary speculative fiction—smart, highly original, and emotionally brutal." – John Blair, author of Bright Angel and American Standard
"Nelson smoothly realizes a provocative alternate present…the thought-provoking story blends action, introspection, and social commentary in a stark but indirect critique of efforts to control female bodies and restrict reproductive rights." – Publishers Weekly
"In the vein of The Handmaid's Tale without being derivative of it." – Paul Ridge, Fictive
"Incredible series … These books are great for book clubs, or just to read and make you think!" – jmc, 5-star Amazon review
Learn more
The Bridge Daughter Cycle: Books One to Three on Amazon: Download sample chapters and purchase the Kindle edition