When I discuss fiction with other writers, I often turn the conversation to playwriting and screenwriting. (My writing friends are kind of sick of the topic.) I talk about these other genres because I believe there's much for a fiction writer to mine from them.
Plays and film are different narrative forms than a novel or a short story, and so not all their nuances translates well. However, like comics and graphic novels, I believe the similarities outweigh the differences. What's more, the practitioners of these other narrative arts have approached them with different assumptions and focuses than fiction writers. Different perspectives on the same art is a great way to learn more.
What I respect about plays and film are their emphases on structure. Structure is woefully under-emphasized in creative writing programs. Far too many MFA students are exiting programs without a working definition of crucial fiction elements like plot and character under their belts. Playwriting exposed me to a world where narrative structure is not treated as a necessary evil but unapologetically the primary focus.
From stage plays I explored books on screenwriting for largely the same reason: to better understand narrative structure. Scripts, both stage and film, are not assortments of characters and setting and dialogue steeped in a genre bath. Scripts are structure. The same applies to fiction, from short stories to novels.
What follows are various texts I've read over the years that have influenced my thinking and writing.
Playwriting
Aristotle's Poetics: Not the dry, dusty book you might think. Aristotle was a fan of stagecraft. His Poetics are an ancient fanboy's attempt to understand why plays make us laugh and cry, why some plays "work" while others "fail." If nothing else, read the Poetics for Aristotle's definitions of plot, character, and spectacle. You will walk away understanding why Aristotle thinks story should be plot-driven and not character-driven—and it will drive your MFA friends nuts.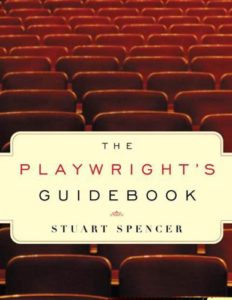 The Playwright's Guidebook (Stuart Spencer): Spencer lays out the same elements as Aristotle but in terms more practical and less theoretical. Too often craft writers think "how-to-write" books are restrictive or push formulas with the ultimate intention of producing a blockbuster. Spencer's more thoughtful approach breaks those expectations. If there's one lesson to take away from Spencer, it is understanding the backbone of all playwriting, the beat, as the fundamental unit of drama (action, conflict, and event). Beats drive fiction too.
Danny and the Deep Blue Sea (John Patrick Shanley): A play in two acts featuring a pair of characters who are alternately in each other's arms and at each other's throats. Shanley's humanist play is a model of economy and character-building. Fiction writers should look to Danny for its effective dialogue, the use of ambiguity, and creating characters through the steady accretion of detail—the naturalism of two highly protective people revealing their soft underbellies to each other.
A Raisin in the Sun (Lorraine Hansberry) and Fences (August Wilson): It's difficult for me to pick one over the other, so I list both. In some ways, each play is constructed in a by-the-book manner: Each act built of scenes, each scene made of beats, and all beats and all scenes propelling their characters forward. You can put your finger on a random page of either of these plays and discover all the elements of Great American Playwriting in action. This is why I've written on both plays before (here, here, and here).

Film & Television
Adventures in the Screen Trade (William Goldman): Although much of this breezy book regards the insanity that is the movie business, Goldman spends valuable pages discussing the creative decisions he made penning screenplays for such classics as Butch Cassidy and the Sundance Kid and All the President's Men, as well as lesser-known films like Harper and A Bridge Too Far. Most instructive is Goldman including a short story of his own and the script he developed based on it. Goldman is an accomplished novelist (he wrote The Princess Bride!) and his insights into screenwriting often "sound" like they're coming from a fiction writer. Plus, let's face it—reading the inside scoop behind these great 1970s films is a treat for any movie buff.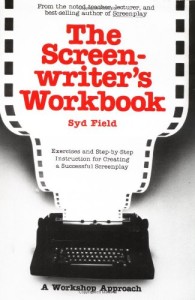 Screenplay and/or The Screenwriter's Handbook (Syd Field): The former is "the Bible of screenwriting" and the second is the New Testament. Yes, both books focus heavily on film script specifics, but Field's discussion of narrative structure made me re-think how the novel is constructed, so much that I'm working on a series about it.
Unlike plays, I can't recommend hunkering down and reading any particular movie script. That may sound strange since I'm recommending books on writing them. Film scripts are so concerned with camera work, it often hampers getting to the meat of the script fiction writers should be concerned with—dialogue, conflict, scene structure, and so on.
Often it's instructive to read plays adapted into movies, especially if the films are loyal to the source text. A good example of this is Glengarry Glen Ross, which easily features the best cast ever assembled for the play. (Trust me, I've seen a few productions.)
Consider watching a film as a writer instead of an audience member. Keep the remote handy so you can go back and re-watch key scenes and study their dialogue and construction. Go even further and watch a film scene with your computer open so you can transcribe the dialogue. That may sound nutty, but you will really come to appreciate the use of language in film—and your own dialogue will improve for it. Good screenwriters have a knack for naturalistic dialogue. Great screenwriters know how to build taut scenes with no dialogue at all—study No Country for Old Men for good examples.
For scripts more dialogue-heavy and less involved with the camera, look to television scripts, in particular those set before a live audience. They tend to focus on characters with well-defined motivations and situations with explosive conflict. (An old theater saying that applies to any great performance: "When someone walks on stage, it better be trouble." Take that to heart in your fiction as well.) Unlike plays, television scripts are harder to locate. A used bookstore with a well-stocked Film & Television section may be your friend here.
Fawlty Towers: John Cleese and Connie Booth's sitcom regularly tops British polls as the funniest show ever, and for good reasons. While the comic acting is one-of-a-kind, the show's writing is also superb. The first episode and "The Hotel Inspector" are heavy on wordplay and farce, with each character popping to life the moment they enter and utter their first line.