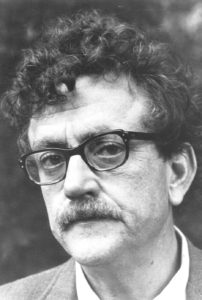 Previously I wrote on Kurt Vonnegut's considerable body of interviews, especially his comments on story shape and fiction as a series of experiments.
One fascinating (Vonnegut-esque?) tidbit in his interviews was an offhand moment in a 1971 profile by Richard Todd (New York Times Magazine):
The class began in a surprising way. Vonnegut remarked that last time they had been talking about form, and he walked to the blackboard and drew there a question mark, an exclamation point and a period. He said these bits of punctuation were the outline of a three act play or story:

? ! .

A student asked if the end might be "Dot, dot, dot." Vonnegut agreed.

? ! …
So maybe this is a gimmicky or silly way to describe story structure, but I'm game to play along.
I've written about organizing structure to motivate my fiction, so this little lesson in punctuation caught my attention. The way I organize my thinking, the three acts of story (really, four) look something like this:
Act 1: Setup
Act 2A: Complication
Act 2B: Confrontation
Act 3: Resolution
This list comes from my reading of Syd Field's books on film structure, which I've modified (slightly) for the purposes of writing fiction, especially novels.
I agree with Vonnegut that most stories, if not all, open with question marks. Even if I've read a book two dozen times—and there are books I can make that claim—the pleasure of the opening chapters is the illusion I do not know what is coming. (I would say this is related in spirit to Coleridge's willing suspension of disbelief.) There are numerous, sometimes playful, ways to pose those questions when a story opens, but those questions are almost always there. Rare if ever does an interesting story open with all the questions answered and the main characters in possession of all the facts. Jim Thompson said there was only one type of story: "Things are not what they seem." That is another way to say stories open with question marks.
Vonnegut's exclamation point jibes with what I've labeled 2A, Complication. Exclamation points do not have to be action or cliffhangers. Sometimes a quiet revelation or admission can turn a story on its head and rearrange how we see the main character and their situation. I hold a pet theory that the art of storytelling lays in reversals (perhaps I'll post about that some day). The exclamation point is one such reversal for the characters: a well-kept secret revealed, a surprising discovery, a fortune amassed, a fortune lost, and so on.
Vonnegut's three punctuation marks (and most of his story shapes) imply three acts. I wondered if my idea about a fourth act, Confrontation, could fit into his punctuation-as-story-structure?
Confrontation, I think, could be expressed as an em-dash. Tension draws taut in the confrontation phase of a story. More than any other part of a story, confrontation is where the reader should be asking herself "Wait—what happens next?" In contrast, final acts are generally not "What next?" but rather "How will it end?"
With an em-dash, then, Vonnegut's story structure could be punctuated like this:
? ! — …
Which seems about right to me.