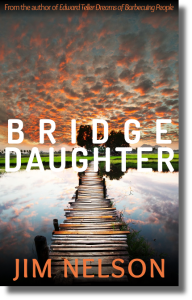 The lights went dim on the Bridge Daughter campaign Friday night around 9pm Pacific time (midnight on the East Coast). Did it end with a bang or a whimper? I would say it ended…on an up-note.
As I wrote last time, campaign activity dropped off after Week Two. What I didn't realize when I wrote that post is how long the trough would sustain. Bridge Daughter had enjoyed a perch on the Kindle Scout Hot & Trending list for nearly two complete weeks, then fell off entirely, save for a few days when it resurfaced for a couple of hours. After reading other messages on the kboards Writers' Cafe, I discovered I wasn't alone—it appears Week Three of the campaign is a quiet stretch for more than a few nominees.
Fortunately, Bridge Daughter rebounded in Week Four and ended with a strong finish: four straight days on the Hot & Trending charts for 24 hours each day. It looks like the interest rekindles (no pun) when a book lands on the "Ending Soon" list, which gives it some prominence on the Kindle Scout home page. It also adds a little urgency to the readers, letting them know that if they want to see a book published, they need to vote now, and not put it off.
I'm out of energy to write more about Kindle Scout at the moment. It was fortunate the campaign concluded Friday evening. It's nice to have a weekend to myself. I realized toward the end of Week Three that not a day had passed since the campaign started that I wasn't fretting over it: writing emails, arranging advertising, social media, working on my blog…it adds up.
Now I wait for Amazon to evaluate the campaign results and my manuscript and return to me with a yea or a nay.