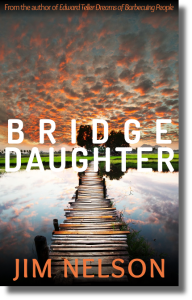 Now entering the home stretch, Bridge Daughter's campaign on Kindle Scout has five days left before the nomination process ends.
Week Three had a noticeable drop in energy over the prior two weeks. Out of the gate, Bridge Daughter was in the Hot & Trending list for over 20 hours a day for twelve days straight. That was a huge rush to see and, of course, invigorated my optimism.
That didn't sustain, unfortunately, but I'm not certain that's a liability for my chances of Bridge Daughter being accepted by Amazon. I've been following the Amazon Kindle Scout message list on kboards.com's Writers' Cafe (which I encourage all Kindle authors to join and follow) as well as reading blog posts from authors who've been published—and not published—via Kindle Scout. I don't have any pearls of wisdom for guaranteed success with Kindle Scout, but I feel more positive than ever that it's a mistake to view the program as a popularity contest.
What's the magic formula?
Looking through the backlog of messages on kboards.com, one recurring question is What's the magic formula for getting published on Kindle Scout? I don't have an answer, but I've learned quite a bit over the past month. (And remember: I'm still in the middle of my first Kindle Scout campaign. Five days from now I might be changing my tune.)
Most of my information is second-hand, although a fair amount came from the authors themselves. (Martin Crosbie's series on his Kindle Scout experience is a good read for anyone considering publishing this way.) It seems the following is true:
Some writers with books in the Hot & Trending list for 30 days straight were not selected.
Some writers who performed so-so in Hot & Trending were selected.
Writers who published multiple books through Kindle Scout in the past have been rejected even though their latest campaign performed reasonably well.
As I said in my first week's post, I believe there's a reason Amazon calls it "nominating" a book instead of "voting" for a book. It's not a purely democratic process, where X nominations push a book across the finish line and Amazon will then (mechanically) start the publishing process.
I believe there to be a human component here, one or more Amazon editors who have some say over the approval process. How active they are in the editorial process after approval, I'm unsure. I've read blogs where authors were getting great edits before publication, and others where the book pretty much went to press as-is. We're not even sure what algorithm Amazon uses to determine if a book is "Hot" at any moment in time (although it seems to be a combination of nominations and page views, i.e. clicks).
Part of me wonders if the Hot & Trending process is simply a baseline rather than the finish line—a way for Amazon to feel confident there's sufficient interest in the book before using valuable editor time to read through it. Hot & Trending is also a gauge of how well the writer can spread the word and generate excitement (via social networks and the blogosphere), now considered by publishers a crucial part of author publicity, Amazon or otherwise.
I wish I could say Kindle Scout is a pure meritocracy, where great writing gets a publishing contract regardless of external factors. Then again, I wish I could say that about the traditional publishing world as well. I do feel I've received a tremendous positive reaction to Bridge Daughter thanks to Kindle Scout's process, and that's more valuable than I can describe.
Five days remaining to nominate Bridge Daughter for publication!