I'm pleased to share that The T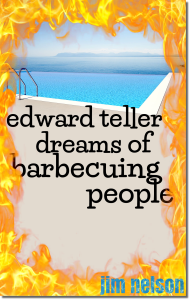 usk has published an excerpt from my upcoming novel Edward Teller Dreams of Barbecuing People. Titled "Roast", it's the novel's opening chapter and introduction to the narrator, Gene Harland. Here's the opening grafs:
The Petrenkos were barbecuing people. They barbecued in sweaters and jeans, they barbecued in swimming trunks and bikini tops. The first clear weekend of the year, they rolled their venerable Weber out from its corner in the gardening shed and ratcheted on the attachments. With strips of steak and breasts of chicken arranged on a marble slab, they lit the mesquite and charcoal with a long match and grilled into the sunset.

Devout barbecuing people, the Petrenkos faithfully miniaturized the Great Outdoors in their backyard. It was nineteenth-century Manifest Destiny with candy-striped patio furniture. The kidney-shaped pool was as blue as Tidy Bowl water and the hose-fed slide, a kitsch Niagara Falls. Paths of crushed volcanic rock that stuck to bare feet wound between the tropical and jungly flowering greenery. The only way to leave without appearing desperate was through the patio door next to the grill, a door Ives Petrenko guarded with an oversized barbecue fork.
I'll announce Barbecuing People's release here, of course.
I owe Tusk editors Lizzy Acker and Nate Waggoner (who also illustrated the piece) deep thanks for inviting me to submit this for their site. Read the whole thing!