In the comments for a previous post on Ann Wroe, obituary writer for The Economist, Peter Marinov helpfully pointed me to a recent NPR interview with two New York Times obituarists, Margalit Fox and Bruce Weber.
Margalit Fox wrote an eye-opening Times essay in 2014 on the art and craft of writing obituaries, so I'm familiar with her name and work. The recent NPR interview coincided with the release of a documentary on Fox and Weber, Obit: Life on Deadline, which I certainly look forward to seeing.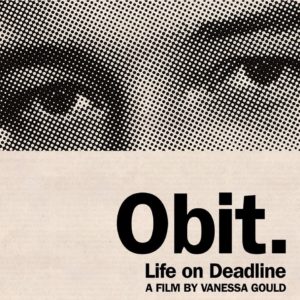 My own interest in all of this comes from a short story I published years back in the North American Review called "The Obituarist". Researching and writing that story led to my own interest in this underappreciated field of journalism.
Like Ann Wroe's thoughts on the profession, Fox and Weber share fascinating insights on this odd but rewarding career path. There's a goldmine of wisdom in the interview, but it's this observation that stood out for me:
And I think the other great attraction is we are the most purely narrative genre in any daily paper. If you think about how an obit is structured, we are taxed with taking our subjects from cradle to grave, and that gives obits a built-in narrative arc, the arc of how someone lived his or her life. And who doesn't want to start the day reading a really good story?