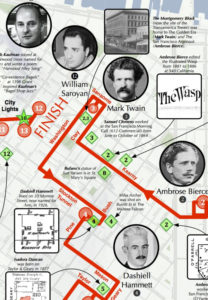 Bikes to Books is a literary bike tour of San Francisco—grab a bike, follow the map, and learn a little about San Francisco's rich literary history. The tour starts at Jack London Alley and ends at Jack Kerouac Alley, on the way passing all twelve streets named after San Francisco writers. It's designed to be taken individually or, twice a year in a group led by @enkohl and @burrito_justice.
This spring, for reasons you've probably heard about, the bike ride will be done virtually on Twitter rather than in a large group. I'll be joining the tour this Saturday, live tweeting about the author I read at Bike to Book's inauguration, Frank Norris (McTeague).
No bike required, no bike helmet required, and no mask required. Join in on Twitter and follow the #BikesToBooks hash tag as @enkohl, @burrito_justice, and more local writers and artists join in reminiscing and reporting on some of the authors that made San Francisco the city it is today.
The virtual ride starts Saturday, May 2nd, from 1pm to 3pm. For more information, check out the announcement at Burrito Justice.