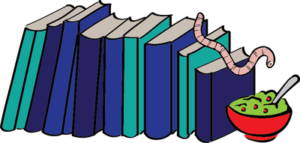 The Hungry Bookworm posted a foodie review of Bridge Daughter earlier today. Hungry Bookworm combines book reviews and cooking in a rather delightful way, offering recipes that complement the book or its subject matter. Blogger dreammkatcher paired Bridge Daughter with Lemon Zucchini Pancakes, an interesting choice considering the role pancakes (and flapjacks!) play throughout the novel:
A strong character, I found myself sympathizing with Hanna and rooting for her until the very end. The morning her mother forces her to make pancakes for breakfast, it becomes clear things are shifting for Hanna. Later on, pancakes are on the table again as her life takes another unexpected turn.

I'm sure Hanna made traditional breakfast pancakes, but since I decided to make them for dinner, I opted for a more savory recipe – Pancakes with a Heart of Gold. An apt name, I think, as Hanna counts on the goodness of many along the way.
It's a great concept, pairing recipes with books. Read the whole wonderful review, and if you make these savory pancakes, I hope you accompany the meal with a setting of fresh-picked flowers.
Bridge Daughter is available at Amazon in Kindle and paperback editions.