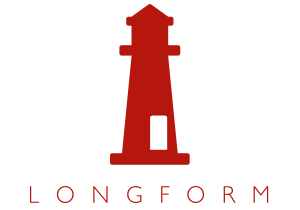 Way back in 2008, Michael Agger wrote for Slate "How we read online", a State of the Union on the dreadful shape of Web journalism. Agger's piece enumerated the accepted practices of online writing that had been pounded into place by the invisible fist of SEO Darwinism: short paragraphs, quick sentences, lots of boldface to anchor attention, and plenty of bullet lists to attract eyeballs. Add a dash of in-the-know sarcasm and a pinch of holier-than-thou smarm, bake until bubbly hot, and you had Internet journalism circa 2008. Nothing mindblowing in Agger's piece, nothing particularly damning either, just an observer stopping for a deep breath, looking backwards to 1997 (or so), and uttering, "This is where we've arrived after ten years?" If you enjoy reading, Agger's article was a discouraging summary of your options online.
Hence my excitement in 2012 when I discovered Longform.org, an aggregator site of digital long-form journalism reliably curated by the University of Pittsburgh's writing program. The site updates daily with links to long essays published around the Web. A concise capsule summary accompanying each link provides just enough context to know if a story is your bag of oats. It's a bit damning of our culture that 2,000 words counts as "long-form" when not so long ago Time or Newsweek would have categorized it as a filler article, but so be it: in 2012, Longform curated the Web I wanted to experience.
Longform's bread-and-butter essays were willing to breathe and go in-depth, allowing the author time to wander a bit off the path and stretch out to take in the long view. They were the kind of articles that made you leave the browser tab open so you could come back to them later—the kind of material you would share with friends when you met them in the real world, not merely the clickbait you dumped into your Facebook feed to further burnish your online persona.
Some examples of great work Longform introduced me to includes "Cigarettes and Alcohol: Andy Capp" from PlanetSlade, James Surowiecki's "A Brief History of Money" from IEEE's Spectrum, and the Wikipedia article on the Tamam Shud mystery, easily the strangest true crime story you'll ever read. (Longform's capsule: "An unidentified body found near the beach in Australia in 1948. An unclaimed suitcase. A coded note.")
I could name a dozen more great articles Longform introduced me to, but these three form a snapshot of the Internet they were curating in 2012. In toto, Longform's recommendations acted as a collective refutation of Michael Agger's 2008 pronouncement: The Web doesn't have to be written in smarmy bulleted shorthand. Longform proved people were ready to read substantial work online. (The years 2011–2012 may go down as the tipping point for the general acceptance of electronic-only written long work, not just long-form journalism, but also ebooks and the legitimization of short story and poetry web sites.)
The above snapshot of recommendations also points to something even more exciting about Longform's aesthetics, namely their openness to a wide variety of sources. All comers were welcome under the Longform umbrella (or inside the Longform lighthouse, in deference to their logo). PlanetSlade is journalist Paul Slade's personal web site, a kind of blog of essays he's been unable to place with magazines, digital or otherwise. Spectrum is the mouthpiece of the Institute of Electrical and Electronics Engineers, hardly a purveyor of mainstream journalism. Everyone knows Wikipedia, but for Longform to pick one of its entries as a worthy read for the serious-casual reader is, I think, their boldest statement yet.
Today, nearing the end of 2014, Longform is going stronger than ever. They've ramped up their staff (sixteen editors, interns, and support staff according to their About page), offer a slick iPhone/iPad app with social media features, produce a podcast, and have promised lots more to come. If Longform is a weather vane, long-form journalism on the Internet should continue to enjoy sunshine and blue skies.
So why do I feel like a plaid-wearing hipster complaining he just heard his favorite college-radio band on a Top 40 station? I've not seen Longform make anything close to a bold statement in over a year. What happened to Longform?
Longform's recommendations for personal blog posts or independent ezines seem far-off memories. Oddities like Spectrum are now rarities. Lately, Longform's daily march of fresh links are a bland cavalcade of sturdy name brands: GQ, The Baffler, The Atlantic, Businessweek, and Grantland, just to name what I see on their home page as of this moment. There's a couple of odd ducks in there (The Chronicle of Higher Education, Eurogamer), but they are dying echoes of what Longform once was and would like to pretend it remains.
Longform's saving grace is their fiction recommendations, a nice touch that keeps the flame alive for those of us not regularly producing non-fiction. But like its nonfiction staples, Longform appears to have its favorites—I'm looking at you, Collagist and Atticus Review.
The homogenization of Longform's picks is the most discouraging aspect of this shift. Today's Longform is less varied and less quirky than the past, now more topical and aligned to the 24-hour news cycle of crisis-mode journalism. Longform's greatest asset in 2012 was the element of surprise tinged with humor. You simply don't read articles about Andy Capp or killer truck drivers very often. Longform put a much-needed spotlight on these great unusual stories and their writers. It seemed to revel in finding that story you never would have heard about. Today's Longform links to that dialogue between Frank Rich and Chris Rock, but let's not fool ourselves: You were bound to hear about it anyway.
It's not that Longform should banish mainstream journalism from their daily feed. There's a place for big-name journalism, but considering those organizations' resources, I would raise the bar on them to make room for other voices to enter the conversation. For example, Grantland's piece on Don King is astonishingly human and one of the best reads of last year. It remains a singularity in Grantland's publishing history (which is largely NBA trade analyses and movie retrospectives). Grantland attempted to surpass it in November with a tepid, torpid piece on sumo wrestling best remembered as a technical demonstration of HTML 5's feature set, but Longform featured it anyway.
I keep returning to the word curation. A trendy term and overused at the end of 2014, but if there's ever a Web site it applies to, it's Longform. Digital curation is what Longform provides; curation is how it should be judged.
Here's what I mean by curation. The Louvre is the most exhausting museum I've ever visited, a leafblower of art and artifacts aimed straight at your visual cortex. Yet the smaller, more modest British Museum is the better experience. Why? At the British Museum, traveling from room to room feels like thumbing through a pocket-sized guide of Western history. Empty space and shadows counterpoint masterpieces. When a room is busy with artwork, it's busy like a rural British garden, that is, rigorously cultivated to appear untended. The British Museum's success is the result of considered decisions, the curators picking and choosing with care from all the cultural riches available to them. The assembled pieces form a cogent experience, and so what's left out is as vital as what's included.
Yesterday, Longform's curators offered to their audience an article with the Upworthy-esque title "This Doomed Alaskan Village Shows Just How Unprepared We are for Climate Change". This is the straw that broke my back. I haven't read the piece so I can't comment on its quality, but everything I've come to dread about Longform is encapsulated in this recommendation. The breathless headline—juicy and primed for sharing on Facebook—tells me this is not the long view but urgency reportage, the journalistic equivalent of grabbing someone by the lapels and shaking them demanding Don't you care? And it's Longform pushing another politically-charged piece in a time when we're subjected to non-stop political cattle-prodding from all sides. It may be a beautiful story, it may be an important story, but as a piece of an assembled whole that's rapidly losing my attention, maybe it's time for me to find a new curator.