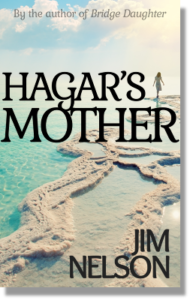 In case you missed it on my Twitter or Facebook feed, the Kindle edition of my latest novel Hagar's Mother is free this holiday weekend—no strings attached. The giveaway ends after Cyber Monday, so pick it up now!
This is a great chance to get both copies of the Bridge Daughter Cycle (Bridge Daughter plus Hagar's). You can pick up both books for a total of USD$2.99 (which is kind of a steal).
If you do pick up the free book, it would be greatly appreciated if you submitted an honest review to Amazon once you finish reading it. Amazon reviews are gold to independent authors like myself for many reasons (which I may blog about one day).
Pick up Hagar's Mother for free here.
Happy holidays—
Jim