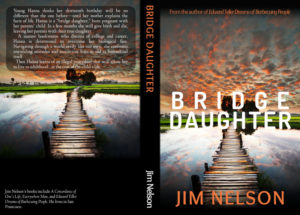 Sandra "Jeanz" of Jeanz Book Read 'n' Review has posted a wonderful review of Bridge Daughter. She also graciously interviewed me about the book, both its background and inspiration as well as the future of Bridge Daughter as a book series.
From her review:
Would I want to read another book in the series? Yesss! I would read the next book now if I could. In my opinion this book genuinely is a strong start to a potentially brilliant series. so I definitely want . . no need to read more.

Would I want to read other titles by Jim Nelson? I will certainly take a look at anything written by this author, especially if it is more like titles similar to this.
And from her interview with me:
What made you chose a Sci-Fi, dystopian genre?

The genre kind of came and found me. This is my first science fiction novel. When the inspiration for bridge daughters hit me, it came as a surprise—where did that come from?—but I wasn't shy to explore the idea. I was a huge fan of science fiction when I was young, although I shifted away from it in my twenties. Today writing science fiction feels a little like returning to my home town.
Read the entire review and interview at Jeanz' web site. You can follow Jeanz on Goodreads. And, if you haven't already, order your copy of Bridge Daughter now on Amazon.