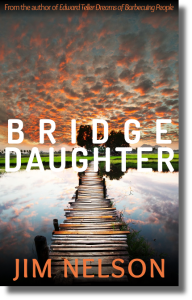 Kindle Scout Winner Bridge Daughter is now available from Kindle Press!
Early reviews for Bridge Daughter are already coming in:
"Hauntingly beautiful…a disturbing view of an alternate America where children bear their parents' children for them." – K. McCutchen, 4-star Amazon review
"I was invested in this story from the first page to the last." – Lino Mascarucci, 5-star Amazon review
"I read it with tears rolling down my face. … The story will stick with you long after you've read the last page." – RPurvis, 5-star Amazon review
"…makes you think about love, children, and morality. How do you give birth to and raise a daughter until she is 14, only for her to give birth to your 'real' child and then die?" – Leah Labbe, 4-star Goodreads review

Remember, if you nominated Bridge Daughter on Kindle Scout, you should have received an email from Amazon with information on how you can obtain your free early copy.