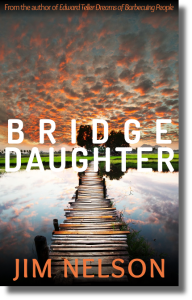 Ten days ago I submitted Bridge Daughter to Amazon's Kindle Scout program. Every day I wake up checking on its progress, excited—and a bit amazed—how it's been sustaining on the Hot & Trending charts. That's due to everyone who has shown so much faith in the book and nominated it for publication. Thank you.
The question of whether Amazon will elect to publish it is still up in the air, of course. Although Amazon's Kindle Scout program is not without its detractors, one thing that has struck me is how this is the most public publication process I've ever experienced. I've told people that this is an experiment for me, and that's partially what I was alluding too.
When I've submitted fiction for publication in the past—to an editor or an agent or an editorial committee—their decision-making process (if they even read the manuscript at all) was kept private. Magazine editors often have heated discussions about what to print, but their opinions and leanings are rarely shared with the author (many of whom would love to hear the critiques, no matter how scathing). When a work of mine was accepted by a magazine, I often was not even told why the editors liked it. And why would I ask? I'm just happy they printed it.
Submission & evaluation

Kindle Scout flips this process on its head, allowing readers some say before the story's published. Although there's a submission process to Kindle Scout, I don't believe it's the kind of vetting that happens at a magazine. I submitted Bridge Daughter to Amazon on a Sunday; they accepted it Tuesday; the campaign went live Thursday. That's warp factor nine compared to traditional publication venues, where three to twelve month turnaround times are the norm.
I once received a rejection letter from a magazine three years after submission. One novella contest I entered took so long to respond, they asked all entrants to mail in new checks because the old uncashed checks had expired. And it has to be mentioned the numerous agents I've queried who simply never responded at all. I appreciate that agents and magazines are overworked and understaffed—I've been a front line reader for lit mags, I've been there too—but I use these extreme examples to describe something close to the norm. (One notable exception was Howard Junker at Zyzzyva who would return rejections ten days later, like clockwork, with his "Onward!" scrawled along the bottom of the slip.)
Because Kindle Scout's submission process requires sending the entire manuscript (not just the first few chapters), I doubt Amazon read the entire book before accepting it. They might have; it's not unheard of. But if you submit your work to Kindle Scout, I suspect they simply want to make sure you have a book of some kind ready: 50,000 words or more, legible manuscript format, Microsoft Word document, and so on.
So Amazon's two- to four-day turnaround has its editorial limits, but I'll still take that over waiting a year to hear back about a novel I sweated over for just as long (or longer).
The world of traditional publication still runs at nineteenth-century speeds. Email and Submittable have changed the time dynamics some, but a lot of the old ways remain firmly in place.
I'm honestly not claiming Amazon is better than other publishers, or that Kindle Scout's nomination process is a model every publisher should adopt. What piques me is that Amazon has developed a new approach to the publishing model, a model that's gone pretty much unquestioned for, what, a century or more now? As I said, this is an experiment, one that I'm willing to try, curious to see play out, and optimistic for success.