Now available at
Amazon / Kobo / Apple iBooks / B&N NOOK / Smashwords
Add it on Goodreads or LibraryThing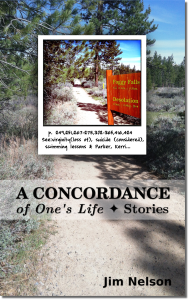 A Concordance of One's Life is Jim Nelson's first collection of short fiction. Featuring ten stories previously published in North American Review, Watchword, Confrontation, and more, Nelson introduces you to a unique and unforgettable menagerie:
A young man indexes his memoirs into a concordance, creating a media sensation as millions of readers jockey to decode his unpublished life story.
Follow the careful plans of one man as he constructs his new girlfriend from scraps of photos collected off the Internet.
A shortwave radio threatens to demolish a South Pacific island culture's traditions.
Two Americans in a sleepy Mediterranean seaside town witness a bizarre annual ritual.
A professional obituary writer's last request: to have his own obituary published upon his death.
Jim Nelson brings to you these worlds and more in A Concordance of One's Life, a collection of ten short stories that ride the fine edge of what's possible and what lays just beyond, all while remaining intensely personal, quietly human, and deftly enjoyable.
Praise for A Concordance of One's Life
"Featuring passages of spiraling dialogue and vivid visual descriptions, Nelson's tongue-in-cheek narrative about literary tourism begs to be turned into a sculpture or play." – SF Weekly
"'A Concordance of One's Life'…lends itself quite easily to artistic interpretation because, in many ways, it's about a struggle to find meaning." – San Francisco Chronicle
From the Author
A Concordance of One's Life features ten of my best short stories never collected together until now.
The title story was the subject of an art installation in San Francisco curated by Watchword magazine. San Francisco artists came together and produced artwork in response to "Concordance", some in traditional mediums, some utilizing multimedia, and even interpretive dance! Watchword also hired actors to roam the installation acting as characters from the story. (Photos of the event are available here.) In all, it was a remarkable event.
Read more about A Concordance of One's Life on my blog.
Contents
A Concordance of One's Life
Inside the Footnote
At The White Sands Motel, 1956
Greenly I Fell
Some of the Things He Thought That Year
Lacking Will
Midnight, Without
The Last Man in San Francisco
Tomorrow's Love
The Obituarist
Where to Buy
Now available at Amazon, Kobo, Apple iBooks, Barnes & Noble NOOK, and Smashwords. (Or, get a free copy when you sign up for my mailing list.)