Now available at
Amazon / Kobo / Apple iBooks / B&N NOOK / Smashwords
Add it on Goodreads or LibraryThing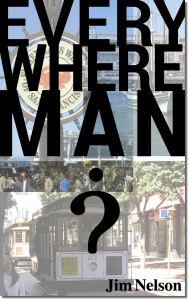 "It was a year ago today we discovered the Everywhere Man…"
Join a team of software engineers in the search for a mysterious man obscured and faceless in millions of tourist photos taken along San Francisco's historic cable car routes. Never identified, his anonymity quietly frustrates a multimillion-dollar Internet startup—as well as the fabric of the city's digital history—until the explosive moment when he can no longer be ignored.
Everywhere Man invites the reader aboard a cable car and into a mystery as old as San Francisco itself. Only after the underground machinery and cables are laid bare is the identity of the Everywhere Man revealed—along with the fate of those who seek him.
Praise for Everywhere Man
"Nelson manages to merge two seemingly disparate worlds: the hard science of code and the creativity of fiction. The result is a fantastic story rendered unusually real." – KQED Arts
"No one tells a hardboiled tale like Jim Nelson." – Instant City
"A unique take on personal identity in the age of big data." – Eric Gregory
"Eerily good." – Litseen
From the Author
Everywhere Man originated as an audio tour of San Francisco curated by Invisible City Audio Tours (Oakland, California). Tourists were encouraged to listen to the author's narration of Everywhere Man (professionally recorded at Berkeley's famed Fantasy Studios with an original backing score composed by Jesse Solomon Clark) while riding San Francisco's cable cars and walking through Fisherman's Wharf. The book and tour are synchronized so the listener is traveling through the locations as they are described in the book.
With Everywhere Man now available as an ebook, readers no longer need to visit San Francisco to experience the mystery!
Where to Buy
Everywhere Man is now available at Amazon, Kobo, Apple iBooks, Barnes & Noble NOOK, and Smashwords.