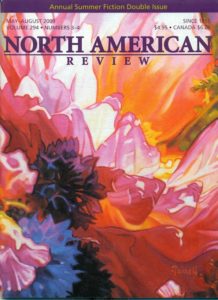 Last time I wrote about keeping a writing notebook. Let's say you started one, or have been keeping a notebook for some time. What do you do with it? Once you've filled a notebook with all these ideas, how do you transfer that inspiration to a short story or novel?
From an essay I wrote for North American Review regarding a short story of mine, I discussed how I used a writing notebook:
On occasion I revisit my writing notebooks for inspiration…Many of my stories evolve from my own (sometimes misplaced) attempts to wire two or three bits of disparate inspiration together and see if sparks fly.
The inspiration for the story they published ("The Obituarist") came from three lines scribbled into my notebook years ago:
"The Obituarist – Dying, old age, writes obits for living ppl. Also writes fiction—short stories?—and has come to realize that man is reliant on conflict, tension, etc. because all our stories rely on them, and they are not stories otherwise. Speaking to a young person writing his obit. (Or he writes book reviews.)"
That was it. I had a title alright, and some idea of a character and his situation, but nothing further. As I explained for NAR, about a year after writing this in my notebook I began working on the story itself, which is now collected in A Concordance of One's Life.
This is the true value of a free-form writing notebook. For some people, a writing notebook is to prevent forgetting something. For others, a notebook is a journal, a way to talk to one's self, a method of getting down pent-up emotions, ideas, or even a fleeting notion that may or may not be useful later.
I keep a writing notebook to externalize my thoughts. Externalizing inspiration, no matter how crazy or random the inspiration may seem, is itself an act of creation. Writing an idea in a notebook is as important as sitting down before the computer and formally typing the story. Those erratic sentences I scribbled about the obituarist were not subsidiary or tangential to writing the story. Those words were the genesis. The story started with me scratching those erratic lines into my notebook, not a year later when I typed the opening sentence in my word processor.
By committing some scattered notions to the page, I'm getting them out of my skull—where they're fluid, malleable, and insubstantial—and forcing them into the physical world, where they take shape and harden into form. It's important to judge my ideas objectively in the bald daylight to determine if they're worth expanding upon.
Plenty of my inspirations go no further than the notebook. That's not a bad thing. Most do not age well. When I return to my notebook, I often blanch upon reading these old inspirations. I will hurry to turn the page—a sure indication I made the best decision not to pursue them.
Wiring sources of inspiration together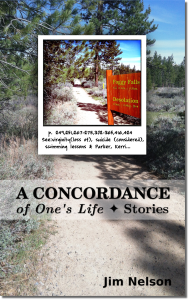 In my NAR essay, I wrote that "The Obituarist" grew from a single idea. More often I find success in combining ideas, "to wire two or three bits of disparate inspiration together and see if sparks fly."
I hold a pet theory that true inspiration is rarely, if ever, a single atomic idea. Inspiration is more often multiple ideas coalescing into one. These balls of inspiration accrete mass over time until a tipping point is reached, and the creator feels the urgent need to get the accumulation down on the page in the form of a story. (Or on the canvas, or modeled in clay, and so on.)
For an example of wiring disparate bits of inspiration together, I point to another story in the collection, "A Concordance of One's Life." The elements from my notebook contributing to the story include:
Man writes a concordance of his own memoirs (but why?)
Adult feels cheated about something that happened when he was young
Small town becomes a literary tourist attraction (a la Hemingway's house in Key West)
A man with a name no one can pronounce
When I began writing "Concordance", the early drafts only involved points 1 and 2. I thought pairing them answered that first question ("but why?"). I was wrong; the early drafts of the story went nowhere. I'd noted the second two bits of inspiration in my notebook before starting the first draft but failed to make a connection. I thought they were for a separate story, if I used them at all.
In a later draft, I added the third inspiration and sparks began to fire. The quiet mountain town as a tourist attraction added a quirky backdrop to my drafts, odd scenes of faceless people going from location to location with their well-worn concordances in hand. Still, the story was shiftless and moody and failed to progress.
The final bit of inspiration came from waking one Saturday morning and, hazy-headed, realizing the cheated man was not the concordance's author. Rather, the narrator was a friend or an acquaintance who went unmentioned in the concordance (even though everyone else in town is described within it).
I'd given up on the story several times over a span of nearly two years. Patience and focus on the story's needs led to plenty of sparks that Saturday morning. The draft I wrote became more-or-less what was published by Watchword later that year.
(Somewhere in this is a moral about not giving up on stories, but I must confess it's sometimes good to cut anchor and move on. Some stories simply cannot be salvaged.)
The fourth point on inspiration—"man with a name no one can pronounce"—found its way into the story during the Saturday morning writing session. It was a last-minute addition. I'd been thinking about the man with the unpronounceable name as the basis for another story, but it had no feet. At the computer Saturday morning, I included it as a gag, a side bit of detail. As the story came to fruition, I realized it was one of the most salient aspects of "A Concordance of One's Life."