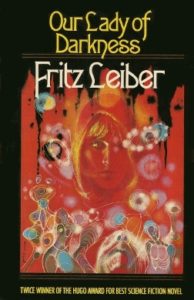 Saturday I had the pleasure to take Don Herron's Fritz Leiber Tour. Like his more famous Dashiell Hammett Tour, Herron recreates through personal research, recollection, and local points-of-interest Leiber's life story and the circumstances that led him to spending his last years in San Francisco.
My attendance in the tour was accidental. In October, while talking with Nicole Gluckstern after the conclusion of the Bikes to Books Tour, I mentioned what can only be called a minor parallel in my life with Fritz Leiber's, and how I'd been meaning for years now to learn more about this prolific author. Nicole told me she was in talks with Don Herron to have him lead a one-off, by-invite-only Fritz Leiber Tour. I eagerly jumped when she asked if I wanted to attend.
Leiber's life defies a summary in brief. The child of actor parents (his father appeared in a number of early Hollywood productions), Leiber developed an avid readership over a career of decades with his wide-ranging work—science fiction, fantasy, sword-and-sorcery, horror & the occult, and more. In addition to experience in theater and acting, Leiber was an amateur astronomer and one-time editor of Science Digest, making him the rare science fiction writer with an actual background in science.
As a child and young man, I was familiar with Leiber through his science-fiction short stories (although I don't recall reading any of his novels). His stories were featured in "best of" collections and back issues of science fiction magazines I dug out of dusty cartons in Livermore's public library.
Then, via Dungeons & Dragons, I learned of a swords-and-sorcery series featuring Fafhrd and the Gray Mouser, a duo comprised of an oversized swordsman and a diminutive thief. When I saw this series was penned by someone named Fritz Leiber, I distinctly recall thinking, "What a coincidence—there's a science-fiction writer with the same name." No coincidence, it turns out. (According to Herron, Leiber coined the phrase "sword-and-sorcery.")
A personal friend of Leiber and his second wife, Herron is a fount of history and insight into this prolific author. Much like his Hammett tour, Herron led us down and around Geary Street and the Tenderloin (names which might ring familiar to readers of Bridge Daughter). Then we boarded MUNI and trekked up to Corona Heights (and its stunning views of the city) in the Castro District. All locations have some connection to Leiber and his semi-autobiographical Our Lady of Darkness. It's a Lovecraftian novel that takes place in 1970s San Francisco whose main character endures a battle with the bottle and grief over the death of his wife, just as Leiber was undergoing at the time.
I hope Herron considers permanently reviving the Fritz Leiber tour—but I suspect the only way that would happen is if there was a strong revival of interest in Leiber himself. Personally, I've already added Our Lady of Darkness to my reading list, and I plan on searching out more of his work.
About that parallel
When I earlier claimed a parallel with Leiber's life, I should explain. I don't mean some personal connection with the author or his work, only that Leiber wrote about an event in his life that rang similar to one of my own.
Eight years ago, after going through what can only be called a divorce immediately followed by a second relationship gone sour, my trials culminated with me busting up my shoulder in a bad accident. I severed all the tendons there, leaving me with a separated shoulder. (To this day it looks like I have "two" shoulder bones.)
I found myself bedridden for six weeks and unable to move my right arm. Day and night I consumed painkillers, delivery Chinese food, and—unwisely—whiskey. (I wrote about this episode for We Still Like's "Gravity" issue, a piece titled "Taylor & Redding".) I spent my time in my apartment, alone, absorbed with Miles Davis and Cal Tjader. I spent my less stuporous hours reading whatever I could get my hands on. In particular, I located at the library a thick collection of Dashiell Hammett's Continental Op stories, which I consumed cover-to-cover.
To keep from going stir-crazy, I took long walks up and down Nob Hill and through the Tenderloin, often at odd hours of night. Due to the painkillers, sleep was varied and sporadic. Some of these walks were as late as three in the morning, when the insomnia was too much to bear.
On these walks I discovered locations and buildings named in Hammett's work, all mere blocks from my Geary Street apartment. The old part of San Francisco is rife with short streets and dead-end alleys, too insignificant to be incidentally included in a story for local flavor, yet Hammett would feature them prominently in his work. These names did not come off a map or phone directory, these were streets intimate to Hammett, a writer obsessed with specifics and verisimilitude. Some of the Continental Op's stories are set in Chinatown. It got so I went out of my way to seek them out.
This led me to reread Hammett's The Maltese Falcon (which I've written about not just once but twice). There, in this single detective novel, I re-experienced in concentrate everything I'd experienced the prior weeks poring over the Continental Op stories. In The Maltese Falcon Sam Spade walks streets I walked every night, attends theaters down the block from my apartment, eats at restaurants still in operation. Sam Spade, living and breathing in San Francisco circa 2008. My front stoop was backdrop and stage for this classic of American literature.
It's not merely the rush of casual literary association—similar to the rush of meeting a celebrity—that overwhelmed me. Details of the novel easily overlooked snapped into clear focus. That gunman Thursby is shacked up at Geary & Leavenworth suggests he's residing on the hairy edge of the Tenderloin, an area rife with flophouses, while the supposedly-delicate Brigid O'Shaughnessy rooms on posh California Street. Sam Spade rides streetcars up and down Geary Street, a notion that defies imagination, as Geary in downtown San Francisco is narrower than the suburban lane I grew up riding my bike on. (The Geary streetcars were known as "Iron Monsters" and phased out in 1956 to make way for America's love affair with automobiles.)
I'd been forced to move to Geary Street a few years earlier due to a bad break-up and the meager income I drew, living paycheck-to-paycheck tending bar. I wasn't happy to reside a stone's throw from the Tenderloin, infamous as San Francisco's seediest neighborhood. It's not—there's a dignity in the TL easily overlooked—and Hammett's work gave me a second sight, another way of reading my surroundings, and with it came another way to see my own circumstances. I say without qualification, Dashiell Hammett's writings carried me through one of my lowest periods of my life.
Some time after my recovery—personal and monetary fortunes on the rise—I sat at the bar of John's Grill in Union Square nursing a drink and waiting for my dinner to arrive. ("Jack LaLanne's Favorite Salad"—a cold seafood salad with avocado slices, pure protein and fat.) On the back of the menu I found a newspaper article the restaurant had reprinted, "Stalking Sam Spade" written by one Fritz Leiber.
And I distinctly recall thinking, "That's funny…there was a science fiction writer with that name."
After Leiber snapped out of the grief over his wife's death and started drying up, he too rediscovered the city he lived in by reading it through Hammett's lens. Geary Street, he wrote, is the "spine" of The Maltese Falcon, and he set out to locate its landmarks much as I'd attempted myself. Leiber was more organized about the project than I ever was, and "Stalking Sam Spade" does a much better job detailing his discoveries. Learning about San Francisco's past through a detective novel led him to search for the history of the apartment house he lived in, culminating in his building becoming the nexus of Our Lady of Darkness.
Perhaps the allure of "rediscovering" a city through literature is not unique to San Francisco, but it's certainly an active and avid pastime here. While some people move to San Francisco solely concerned about which address is currently beau chic or which nightspots are ripe for seeing-and-being-seen, I've encountered just as many who've found themselves ensnared in this game, the game I played those sleepless nights. It's much as the Baker Street Irregulars "play the game" retracing Sherlock Holmes' footprints as though he'd lived and breathed. With each step of the game comes the chill of revelation, the buzzing realization you're walking the streets Hammett, Kerouac, Frank Norris, and others once trod daily. Each San Francisco writer is inspired in very different ways by the same city—a city that reinvents itself every generation, granting each artist who lands here a bed of fresh soil to sow and till. Some waste it, some fail to tend their seedlings. Others grow oak trees still standing today.
As Herron pointed out on our tour, Leiber got one fact wrong in "Stalking Sam Spade": Spade's apartment was most likely at Post & Hyde (not Geary & Hyde), the same location as Hammett's apartment when he lived in San Francisco. A landmark plaque is on that building today, just as there is one at Burritt Alley—the location of the first murder in The Maltese Falcon—a plaque that did not exist when Leiber wrote his article.
Another plaque that did not exist at that time is today placed on the Hotel Union at 811 Geary Street. It's dedicated to Fritz Leiber and the book he wrote while drying up there, Our Lady of Darkness, a book inspired by his quest to re-walk the chapters of Hammett's San Francisco and see the world anew.
Learn more about Don Herron's tours and books at donherron.com