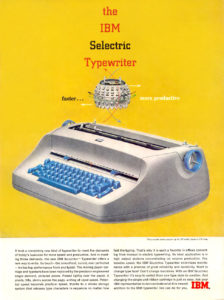 How is computer programming like writing fiction? Is writing code anything like writing stories?
When I was young, perhaps seven or eight, I banged out my first short story on a second-hand IBM Selectric typewriter my mother brought home from her office. Powered on, the Selectric vibrated the whole desk and emanated a low mechanical hum, some unseen engine in the contraption idling. I still recall the smell of the ink in the typewriter ribbon and the satisfying, officious schock as the typeball jumped from its perch and tapped lettering onto the crisp onion paper I'd fed into the roller.
The story I wrote was a retelling of Richard Connell's "The Most Dangerous Game" transplanted to a science-fiction setting. (In fact, I think I creatively titled it "The Most Dangerous Game in Space".) My determination to spend hours coping with that unforgiving contraption went beyond an affinity for the classic short story. As an avid young reader, I'd come to wonder if I could pen my own fiction. My aspirations weren't so bold as to imagine being published, only to see if I could write my own, but later that dream crept in too.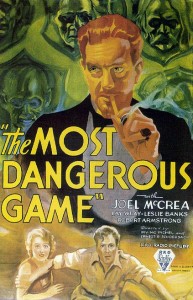 Around the same time (this would've been 1979), I cajoled my parents into buying a home computer. Silicon Valley was marketing home computers as personal productivity assistants, devices to balance one's checkbook, manage a home mortgage, track stocks, and so on. Home computers were also being pitched as tools to give students an edge in school. I couldn't care less about schoolwork—and I'll be damned if that computer ever balanced my parents' checkbook—but with a home computer I could play video games, my only real motive for wanting one.
Innumerable hours playing videos games led me to try to write my own. It was a natural progression, just as reading I, Robot set me to thinking of my own robot stories.
I never did write a video game, at least not one that anyone would want to play, but software development did become my career path, one I'm still following over 35 years later.
Likewise, although I didn't finish that short story, writing fiction remains an important passion in my life, even more important than programming.
Walking these paths, I'm sometimes asked if writing software and writing stories are the same. Or, at least, if they bear any similarities. And my answer is, yes, there are commonalities between the two.
I'll explore more parallels in the future, but already I've alluded to one thing they have in common. I've never met a good writer who wasn't first an avid reader, and I've never met a good programmer who wasn't first an avid computer hobbyist.
Art is a kind of recruiting poster for itself. An art attracts its own artists.
Next: Is coding art?